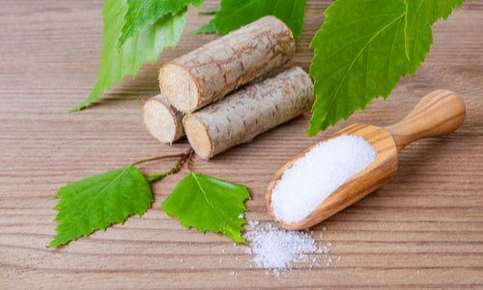 Could Your New Year's Diet Be Deadly for Your Pet?
If you're planning to lose weight in the new year, you're not alone. In fact, "diet to lose weight" was one of the top five resolutions when Vitagene surveyed Americans about the content of their New Year's resolutions. Replacing sugar with an artificial sweetener offers a simple way to cut calories if you're ready to shed a few extra pounds. Unfortunately, the change could jeopardize your dog's health if you eat or drink foods and beverages that contain xylitol or add the sweetener to foods.
What Is Xylitol?
Xylitol is a sugar-free sweetener added to many low-calorie foods and beverages. The sugar alcohol is found naturally in fruits and vegetables and is commercially produced from corn cobs or birch bark, according to the International Food Information Council Foundation.
Xylitol is often used to sweeten sugar-free gum and candy and may be added to other sugar-free or diabetic friendly products, including mouthwash, toothpaste, peanut butter, chewable vitamins, mints, cough syrup, desserts, ice cream, and medications. You can also purchase xylitol in stores and use the product to sweeten your coffee or replace the sugar in a favorite recipe.
Why is Xylitol Harmful to Dogs?
Unlike humans, dogs are particularly sensitive to the effects of xylitol. Ingesting xylitol triggers a rapid release of insulin from your dog's pancreas and quickly lowers your pet's blood sugar level. Xylitol may also affect liver enzymes and cause liver failure in severe cases. The pancreas, located in your dog's abdomen, regulates blood sugar and produces enzymes needed for digestion.
If your pet doesn't receive immediate emergency veterinary treatment after eating or drinking a food or beverage containing xylitol, he or she could die.
What Are the Symptoms of Xylitol Poisoning?
Your dog may exhibit one or more of these signs and symptoms after ingesting xylitol:
Lethargy
Coordination Problems or Difficulty Walking Normally
Yellow Gums
Vomiting
Diarrhea
Black Stool
Trembling
Racing Heart
Seizures
Sudden Collapse
The severity of the symptoms will depend on the amount of xylitol that your pet consumes. Foods that list xylitol among the first several ingredients contain the highest amounts of the sweetener.
How Is Xylitol Poisoning Treated?
Your pet's veterinarian may give him or her medication to induce vomiting, depending on how long ago your dog consumed xylitol. Intravenous fluids and dextrose (sugar) may also be provided to treat dangerously low blood sugar.
Over several hours, the amount of dextrose your dog receives will be gradually decreased until your pet's blood sugar reaches normal levels. Your pet's veterinarian will also closely monitor your dog's liver enzymes. In some cases, your pet may need to take liver protectants for a week or two after returning home.
Are Other Sweeteners Dangerous?
Although your dog doesn't need to eat sweets, ingesting foods or beverages sweetened with other artificial sweeteners won't harm his or her health. In fact, erythritol, stevia, maltitol, saccharin, sorbitol, aspartame, and sucralose aren't poisonous to dogs, according to the Pet Health Network.
How Can I Prevent Xylitol Poisoning?
Placing foods and beverages out of the reach of your dogs and removing trash promptly are simple ways to prevent poisoning. Do you keep sugar-free mints, gum or candy in your purse or backpack? You never know when your pet may upend your bag and discover these tempting treats. For your dog's sake, place bags and backpacks in closed cabinets or on high hooks or shelves to prevent an emergency trip to the veterinarian.
Don't forget about non-food items too. Place toothpaste and mouthwash in the medicine cabinet as soon as you've used them, and store vitamins and medications in a safe, secure place.
If you think that your dog has eaten food that contains xylitol, call the vet immediately. Prompt treatment is essential and will reduce the risk of serious complications or death due to xylitol poisoning.
Whether you have questions about food safety or it's time for your pet's checkup, we're here to help you protect your furry friend's health. Contact us to schedule an appointment.
Sources:
Vitagene: The Most Popular 2019 New Year's Resolutions
International Food Information Council Foundation: What Is Xylitol?, 1/3/19
Pet Health Network: Xylitol Poisoning in Dogs: A Deadly Sugar Substitute